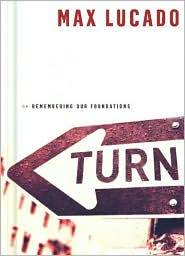 If my people, who are called by my name will humble themselves and pray, and seek my face, and turn from their evil ways, then will I hear from heaven and forgive their sins and heal their land. -2 Chronicles 7:14
Max Lucado's book,
Turn
gives a whole new meaning to this verse. Again and again Lucado emphisizes the fact that our nation is in desperate need of a turn back to our foundations. He relays this message with these staggering statistics:
"In one year in America:
-Over 957,000 marriges end in divorce
-Over 15,000 people are murdered
-Up to 1,800,000 pregnancies are aborted
Don't we need to make a turn? Of course we do. But which way do we turn? Which route do we follow?"
Lucado challenges America to remember our long-forgotten, Christ-based foundations, and to return to the one who will bring us back to him- if we only call on his name. With every chapter, he emphasizes and explains different parts of 2 Chronicles 7:14, and brings out a convicting message with every sentence. Lucado draws on the fact that, "God is not moved by men of standing, but by men of kneeling", and places a big emphasis on our responsibility
as Christians
to seek Christ's face and turn from our evil ways.
I
strongly
recommend Turn for any Christian that desires to turn this generation back to our foundations, and to change the world through the mighty working of prayer.
I'll wrap this up by leaving you with an exerpt from Turn, and I hope and pray that many others will be changed by this book as I have. I would rate this book an easy 5.0 stars, and I encourage all of you to purchase it!
"What stirs God to heal a land? What conditions trigger refreshing rain?
What prompts the Almighty to cure a country?
The answer is the same today as it was in Solomon's time.
God simply asks us to turn.
He asks us...


-To turn from self-promotion to God-promotion
("Called by my name")

-To turn from self-reliance, to God-dependance
("Humble themselves and pray")

-To turn from self-direction, to God-direction
("Seek my face")

- To turn from self-service to repentance
("Turn from their wicked ways")


When will God heal the land?
When people turn back to him."